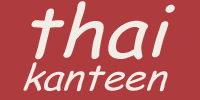 541 Military Rd
Mosman NSW 2089
Phone: 02 9960 3282
Monday through Saturday
Takeaway - Pick-up
5:00pm - 9:30pm
Local Deliveries
5:30pm - 8:30pm
Dine-in
5:00pm - 7:15pm
7:30pm - 10:00pm
All our staff are vaccinated against covid-19
Copyright © 1998-2022
Fisher & Inthorn Pty Ltd
T/A Thai Kanteen
ABN 61 001 687 690
Welcome
Thai Kanteen offers a relaxed dining experience presenting classic Thai cusine with classic Australian finesse.
Chef / Owner Anan Inthorn studied Royal Thai Cuisine at the traditional Suan Dusit College and furthered his experienced in Bangkok hotels. His subsequent experience in Australia led to local qualification as testament to his competence within the local food scene.
In other words you are getting authentic Thai tastes, within a familiar environment you can trust.
Add to this, Australia's best fresh produce and seafood, greater availability of organics, and a contemporary approach to dish design & presentation, and you have the recipe for a whole new dining experience.
Our specialty desserts and extensive wine collection compliment the meal perfectly.
Whether it is an intimate dinner for two, a night out with friends, a banquet for a group or a quick take-away, Anan and his staff invite you to experience the tastes of Thailand as only Thai Kanteen can show you.